Screen & Digital Printing, & Embroidery!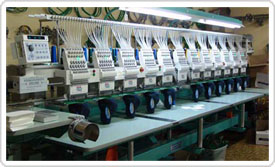 Arteez screen printing and embroidery has been serving corporate organizations and consumers since 1989.  Our mission is to provide the best service, quality and competitive pricing for our customers.
Every order is handled with a personal touch from start to finish by experienced and professional staff.  Some companies are simply "middlemen" who contract the work to others. Unlike many of our competitors, we do EVERYTHING in-house to assure the best quality and guarantee our work and deadlines.
We handle any size orders from just one piece to a few thousand and give every order the same attention and care no matter how big or small. We return calls promptly, provide accurate information and find solutions for every customer's needs.
We carry the best quality products and brand names that you'll recognize, including brands made in the USA. Other companies may offer less expensive generic products of inferior materials and construction, imported from sweatshops overseas but we do not.
We understand deadlines, and we'll work with you to meet them and get your order to you quickly.
You can provide original artwork, customize our stock design ideas to your needs, or work with our creative design staff to make your ideas come to life.
We proudly serve corporate organizations and customers all over the United States from our Sacramento location and through our website we reach corporations and consumers all over the country and ship anywhere in the USA.